DOUBLE COLLAR MERINO ARAN CARDIGAN
$100.00 $132.00
Size Guide
---
This 100% Merino Wool cardigan has a comfortable double collar to give the wearer an extra cosy feeling.
The zip has a unique piece of jewellery in the form of a trinity knot. This Aran Cable cardigan is both casual and elegant making it perfect for every day wear.
This garment is available in a variety of colours and sizes from XS to XL.
Please click to find out more on our Shipping & Returns Policy  
---
---
Related Items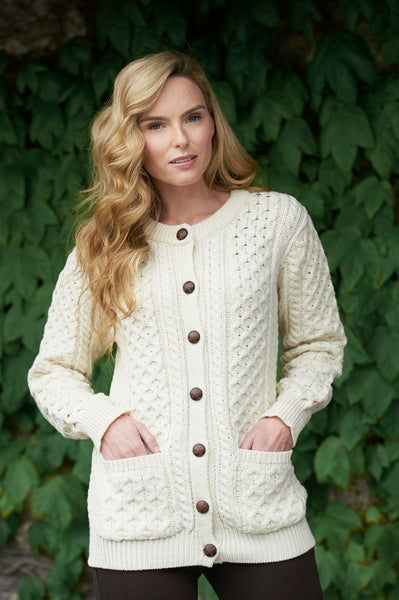 MERINO WOOL ARAN LUMBER CARDIGAN
$94.00
Size Guide
---
This luxurious Irish Aran Cardigan is hand crafted from 100% Soft Merino Wool.  Featuring traditional leather-look buttons...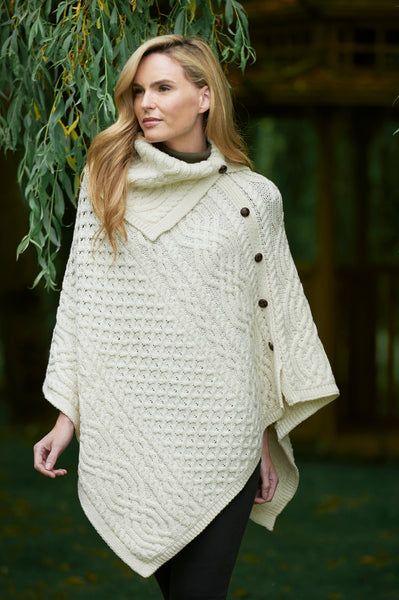 LADIES MERINO ARAN COWL NECK CAPE WITH SIDE BUTTONS
$92.00 $113.00
Size Guide
---
This Cable Knit poncho is a must have for your wardrobe. It features the beautiful cable stitch and...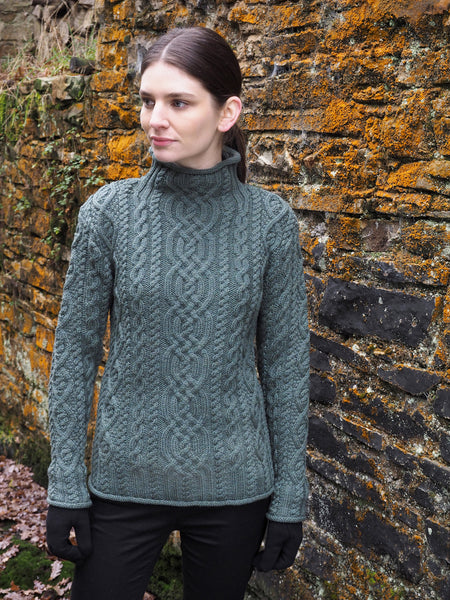 SUPER SOFT ARAN FUNNEL NECK SWEATER
$119.00 $138.00
Size Guide
---
This Cable Knit Aran is a casual, relaxed style. It features the popular cable stitch and an...
Westend Knitwear Size Chart
Below is a table that has the size conversions so that you can choose a size that fits you best.
Please Note the sizes in the chart below are approximate and are used as guidance only.
As wool is a natural fibre, it therefore has a degree of flexibility:
Ladies Size Guide

Our Sizing

XS

S

M

L

XL

XXL

EUROPE

38

40

42

44

46

48

UK

8-10

10-12

12-14

14-16

16-18

18-20

USA

6-8

8-10

10-12

12-14

14-16

16-18

Chest Width
(Inches)

32"-34"

34"- 36"

36"- 38"

38"- 40"

40"-42"

42"-44"

 

Chest Width (cm)

81-86

86-91

91-96

96-101

101-106

106-111
Men's Size Guide

Our Sizing

S

M

L

XL

XXL

EUROPE

48

50

52

54-56

58

UK

38

40

42

44-46

48-50

USA

38

40

42

44-46

48-50

Chest width
(Inches)

38"-40"

40"-42"

42"-44"

44"-46"

46"-48"

Chest Width
(cm)

96-101

101-106

106-111

111-116

116-122
Children's Size Guide

Our Sizing

12/18mts

2/3yrs

4/5yrs

6/7yrs

8/11yrs

Width
(Inches)

21"

24"

26"

28"

32"

Length
(Inches)

12.5"

15.5"

17.5"

19"

21.5"
Unisex garments

(Styles C1347/C1949/R1949/C311)

Our Sizing

XS

S

M

L

XL

XXL

Chest Width
(Inches)

32"-34"

34"-38"

39"-42"

42"-44"

44"-46"

46"-48"

Length
(Inches)

     24"

25"

     26"

27.5"

28"

28"