TRADITIONAL CABLE KNIT TURTLE NECK SWEATER
$81.00 $97.00
Size Guide
---
This Traditional Turtle Neck Sweater is made with 100% extra soft Merino Wool. Traditional stitches are used throughout this garment. The beautifully soft Merino wool in the high collar gives this sweater extra warmth, and when added to the traditional stitches that have been used a story is told by the wearer.
The cable stitches symbolise the Fishermans ropes, and the centre panel with the diamond stitch represents wealth or success. The pattern used on the back reflects the same one that has been used on the front. The sleeves have a mixture of cables, diamonds and basket stitches. All these stitches combined together tell a story, maybe giving the wearer the gift of the gab!!
Super Soft 100% Merino Wool
Traditional Cable Stitching
Easy Care
Please click to find out more on our Shipping & Returns Policy
---
---
Related Items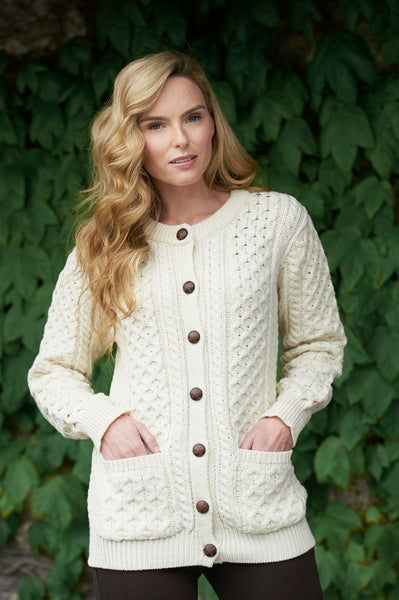 MERINO WOOL ARAN LUMBER CARDIGAN
$94.00
Size Guide
---
This luxurious Irish Aran Cardigan is hand crafted from 100% Soft Merino Wool.  Featuring traditional leather-look buttons...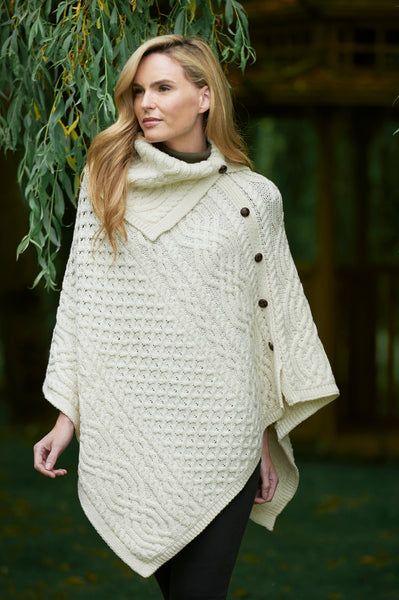 LADIES MERINO ARAN COWL NECK CAPE WITH SIDE BUTTONS
$92.00 $113.00
Size Guide
---
This Cable Knit poncho is a must have for your wardrobe. It features the beautiful cable stitch and...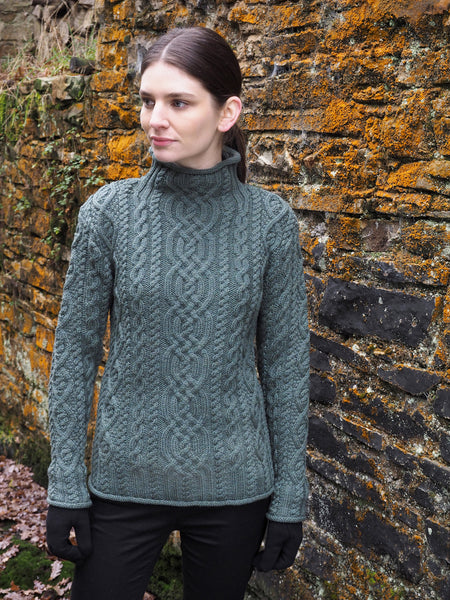 SUPER SOFT ARAN FUNNEL NECK SWEATER
$119.00 $138.00
Size Guide
---
This Cable Knit Aran is a casual, relaxed style. It features the popular cable stitch and an...
Westend Knitwear Size Chart
Below is a table that has the size conversions so that you can choose a size that fits you best.
Please Note the sizes in the chart below are approximate and are used as guidance only.
As wool is a natural fibre, it therefore has a degree of flexibility:
Ladies Size Guide

Our Sizing

XS

S

M

L

XL

XXL

EUROPE

38

40

42

44

46

48

UK

8-10

10-12

12-14

14-16

16-18

18-20

USA

6-8

8-10

10-12

12-14

14-16

16-18

Chest Width
(Inches)

32"-34"

34"- 36"

36"- 38"

38"- 40"

40"-42"

42"-44"

 

Chest Width (cm)

81-86

86-91

91-96

96-101

101-106

106-111
Men's Size Guide

Our Sizing

S

M

L

XL

XXL

EUROPE

48

50

52

54-56

58

UK

38

40

42

44-46

48-50

USA

38

40

42

44-46

48-50

Chest width
(Inches)

38"-40"

40"-42"

42"-44"

44"-46"

46"-48"

Chest Width
(cm)

96-101

101-106

106-111

111-116

116-122
Children's Size Guide

Our Sizing

12/18mts

2/3yrs

4/5yrs

6/7yrs

8/11yrs

Width
(Inches)

21"

24"

26"

28"

32"

Length
(Inches)

12.5"

15.5"

17.5"

19"

21.5"
Unisex garments

(Styles C1347/C1949/R1949/C311)

Our Sizing

XS

S

M

L

XL

XXL

Chest Width
(Inches)

32"-34"

34"-38"

39"-42"

42"-44"

44"-46"

46"-48"

Length
(Inches)

     24"

25"

     26"

27.5"

28"

28"